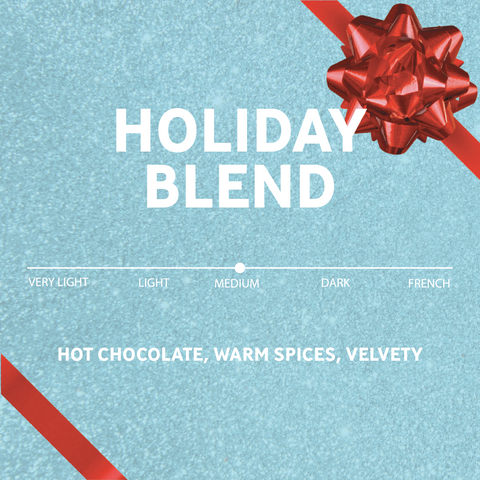 Rebel Dog Coffee Co.
Holiday Blend
We're so pleased to release our 2023 Holiday Blend coffee, a medium roast blend of coffees from Colombia, Mexico, and Ethiopia that will make you feel like you're savoring an exquisite hot chocolate on the coziest winter day. Stock up on bulk 2 lb or 5 lb bags to last you through all your holiday festivities, and send 12 oz bags to all of your loved ones for a gorgeous gift that we're sure will be much-appreciated.
We are tasting cinnamon and hot chocolate with a velvety texture in this year's holiday blend.
What's in This Year's Holiday Blend?
Colombia / Finca Palmichal
La Coqueta, Genova, Quindio
Variety: Castillo
Growing Altitude: 1560 masl
Processing Method: Washed
Finca Palmichal is high on the western side of the Central Andes mountain range, near the municipality of Genova, in the department of Quindío. This region went through violent and difficult times during the peak of the guerrilla expansion in the country. But now, after the negotiation between the government and the FARC, there is hope among these communities for many safe and happy years to come.
Producer Atilano Giraldo is the third generation of his family to grow coffee in Quindío, and he grew up working in coffee alongside his father. Gradually, he acquired additional properties, including Finca Palmichal, which he bought from the local Osorio family.
Recently, after years of hard work, and in order to help the development of his region, Don Atilano ran and was elected as a senator in the Colombian parliament representing Quindío.
Varieties: Bourbon, Typica, Mundo Novo
Growing Altitude: 1200 - 10900 masl
Processing Method: Washed
Sierra Azul is a Certified Organic and Fair Trade organization located in the buffer zone of the El Triunfo Biosphere in Chiapas, Mexico. The smallholder members are dedicated to environmental protection as well as producing high-quality coffees organically.
El Triunfo is a UNESCO biosphere reserve situated in the mountains of Sierra Madre de Chiapas, south of the Chiapas State. The terrain is generally steep and mountainous. The reserve is constituted as the limit between two of the largest hydrological regions of the state; the Pacific coast and the Grijalva-Usumacinta River. As a primary Pleistocene refuge, its location in the mountains of the Sierra Madre de Chiapas, it is considered an endemic area for different groups of plants and animals.
El Triunfo is the most diverse evergreen cloud forest in Mexico, and one of the most important sites for bird migration. It is covered with evergreen seasonal forest, montane rainforest and lower montane rainforest that contain a higher proportion of endemic plants. A number of threatened mammalian species can be found in the reserve, namely Geoffroy's spider monkey, margay, jaguar and puma.
Varieties: Heirloom Ethiopian
Growing Altitude: 1850 - 1880 masl
Processing Method: Washed
This coffee comes from multiple smallholder farms in the village, or kebele, of Edido who deliver their coffees to the Aricha washing station for processing. Aricha is about 8 kilometers from the center of Yirgacheffe Town. The soils in this region are red-brown clay soil, about 1.5 meters deep.
Washing stations like Aricha serve as many as several hundred to sometimes a thousand or more producers, who deliver coffee cherry throughout the harvest season. The blending of these cherries into day lots makes it virtually impossible under normal circumstances to know precisely whose coffee winds up in which bags on what day, making traceability to the producer difficult. However, importer Cafe Imports use every available effort to source coffee from the same washing stations every year, through their export partners and connections with mills and washing stations, providing consistent market access to the farmers in this village.
Typically farmers in this region don't have access to and therefore do not utilize fertilizers or pesticides in the production of coffee. 
Go to top