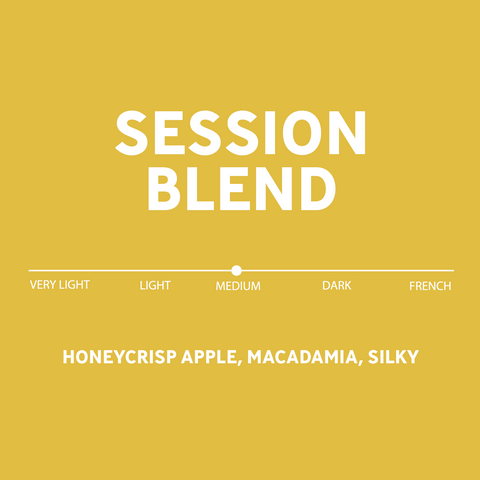 Rebel Dog Coffee Co.
Session Half Caff
One of the first things we knew when we began our own roasting program was that we wanted to offer both a really good decaf (check out Speed Limit!) and a really good half-caffeinated blend, so we're very excited to offer our Session Blend. Given a name reminiscent of easy-drinking session beers, known for being a little less intense but no less drinkable, our Session Blend half-caf coffee is an easily drinkable blend of a naturally decaffeinated Colombian coffee and an organic, fair trade Peruvian coffee.
We are currently tasting notes of honeycrisp apple and macadamia with a silky texture in the Session Blend.
What's In Session Half Caff?
Varieties: Castillo, Colombia, Caturra
Growing Altitude: 1200–2100 masl
Processing Method: Natural Decaffeination
This coffee is custom decaffeinated for Café Imports in Colombia with a natural process that uses Ethyl Acetate (EA), a naturally occurring ester found in bananas and, for this purpose, as a by-product of fermenting sugar cane. This process is also known as Sugarcane Decaffeination, and is exceptional for maintaining the integrity and sweetness of the green coffee even as the caffeine is removed (until only a maximum of .001%-.003% remains).
Varieties: Catimor, Caturra, Bourbon, Typica
Growing Altitude: 1650–1800 masl
Processing Method: Washed
This Fair Trade Certified, organically grown coffee comes to us from ambitious and quality-driven coffee cupper and importer Rony Lavan. Rony's passion is with identifying and developing the top scores and the best cups, and he has spent his career trying to carve out better and bolder coffees from small producers in Peru.
Peru is a shining example of progress and development through relationships. In 2014, Café Imports met Rony Lavan, a cupper at a cooperative in the Cajamarca region of Peru. After spending some quality time working alongside him, they started talking about how we could do smaller, higher quality, and more traceable offerings together. Today, Rony now owns Lima Coffees located in Jaen, Peru, and Café Imports have been sourcing and developing the vast majority of their Peruvian coffees alongside the team at Lima Coffees since 2017, historically spending time in Jaen cupping and approving coffees while visiting farms and connecting with the many fantastic producers that Lima Coffees represents. 
As an origin, Peru has all the conditions necessary to produce world-class coffee: Its high elevation; prominence of good varieties like Typica, Bourbon, and Caturra; and a quality-focused movement among smallholder growers, especially in cooperatives utilizing organic husbandry, is very encouraging for the future recognition these lots will deservedly receive.
As of the 2010s, Peru is one of the top producers of Arabica coffee, often ranked fifth in world production and export of Arabica. The remoteness of the coffee farms and the incredibly small size of the average farm has prevented much of the single-farm differentiation that has allowed for microlot development and marketing in other growing regions, but as with everything else in specialty coffee, this is changing quickly as well. The country's lush highlands and good heirloom varieties offer the potential for growers to beat the obstacles of limited infrastructure and market access, and as production increases, we are more likely to see those types of advancements.
Go to top