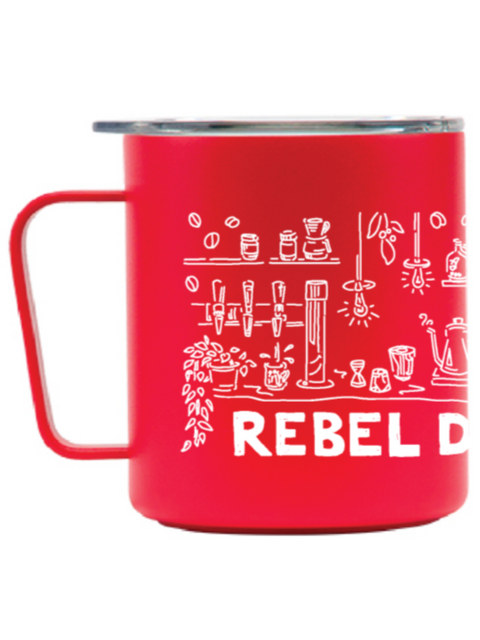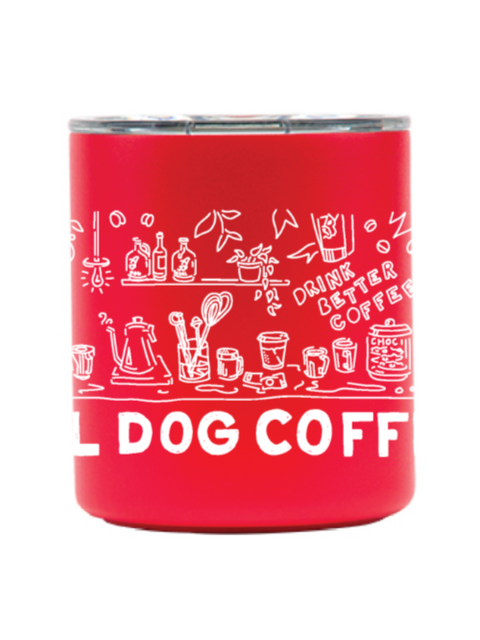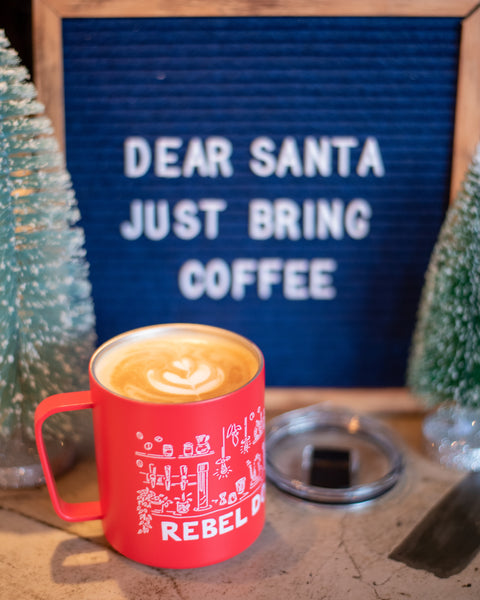 Rebel Dog Coffee Co.
12 oz MiiR Insulated Camp Cup
Take your favorite coffee on the go! These vacuum insulated, stainless steel mugs will keep your hot drinks hot and your cold drinks cold for several hours on your commute or travels. Best of all, these feature great, unique artwork from one of our very own former baristas and local artist, Mel M.
This traveler is an elevated take on the classic, fireside camp cup, and will easily carry any beverage you fancy while impressively maintaining its temperature. Each MiiR camp cup comes standard with a Press-fit Slide Lid. A smooth-gliding slider covers the mouth opening of the MiiR Press-fit Slide Lid for an extra dose of insulation and splash proof peace of mind. Press-Fit Straw Lids are also available for purchase for $9.95 as part of your camp cup order.
PLUS! Every MiiR product sold helps fund nonprofit organizations that work to empower communities, while investing in the health of our natural environments. Scan the QR code on the bottom of your new camp cup to register it and track your purchase's impact!
MiiR is a premium drinkware company with a social and environmental mission. A certified B Corp that is independently owned and operated, MiiR chooses people and planet over the demands of Wall Street.
These 20 oz travel tumblers feature:
Thermo 3D® Vacuum Insulation
18/8 Stainless Steel
Hardshell™ Powder Coat
BPA-Free
Press-Fit Slide and Press-Fit Straw Lid Compatible
Cup Holder Compatible
Easy to Clean
Lifetime Warranty through Miir--visit miir.com/warranty for more information
Your investment generates impact. When you buy a MiiR product, they set aside a portion of revenue from the sale and earmark it for their giving initiatives. Each year, they invest those dollars back into non-profit organizations whose work empowers communities while benefiting the health of our natural environments.
Every MiiR product includes a scannable Give Code™, a powerful tool that connects you to MiiR's grant recipients
and giving initiatives. We invite you to learn more about MiiR's impact by registering the Give Code™ on the base of each MiiR product.
Together, we give more. Simply Flip, Register, Follow:
1. FLIP your MiiR product over to scan your Give Code™
2. REGISTER your Give Code™ on MiiR.com/Give
3. FOLLOW along and learn more about MiiR's positive impact on people and our planet
MATERIALS
All MiiR products are constructed of premium, 18/8 (18% chromium, 8% nickel) medical grade stainless steel. Press fit lids are made of Eastman Tritan™, which has been tested and is not known to leach harmful chemicals or present health risks. They carry no bisphenols (BPA, BPS, etc.), estrogenic activity (EA or estrogen leaching) or androgenic activity (AA or testosterone leaching). With the exception of products offered in natural stainless steel, all MiiR products are finished with a durable Hardshell™ powder coating to protect and preserve your product's appearance.
DIMENSIONS: 12 oz Camp Cup
Diameter/Width Including Handle: 3.35" (85 mm)
Height: 4" (99.8 mm)
HAND WASH RECOMMENDED
Though technically dishwasher safe, for the longest term product satisfaction, especially for products with a Hardshell™ powder coat finish and/or custom design or finish, we recommend hand washing your MiiR in hot, soapy water with a long-handled soft bristle brush. Extremely high water temperatures and the rigorous environment of a dishwasher will deteriorate these finishes over time. All MiiR lids are easily hand washed and are also top rack dishwasher safe.
DO NOT FREEZE
Freezing temperatures can damage the insulation properties of your insulated MiiR (and if sealed, the vacuum insulation will prevent the inside from becoming cold anyway). To carry the coldest of contents in your insulated MiiR, simply fill with ice and enjoy.
DO NOT MICROWAVE
All MiiR products are made of stainless steel and are not safe to put in the microwave.
NOT INTENDED FOR CARBONATED BEVERAGES
For any other questions regarding materials, preservation, and durability, including MiiR's limited lifetime warranty, please visit miir.com/faq.
Go to top