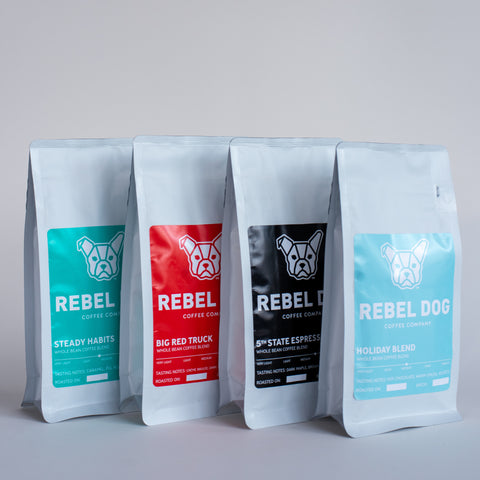 Rebel Dog Coffee Co.
Coffee Sampler Box
Give the gift of a variety of great coffee this holiday season! Our coffee sampler box includes a 4 oz bag of each of four of our most popular coffees: Holiday Blend, Steady Habits, Big Red Truck, and 5th State, perfectly packaged and ready for gifting.
If you are interested in substituting one of the standard coffees in this box for our Speed Limit Decaf or Session Half Caff, please send us an email at orders@rebeldogcoffeeco.com with the subject "Custom Sampler Box Request."
What's in the Coffee Sampler Box?
Check out each of the coffees in the box, and shop the full size bags for even more great coffee!
Our signature house offering blends coffees from Ethiopia, Colombia, and Guatemala in a medium-light roast for an easy-to-drink, everyday coffee. We chose the name Steady Habits, an unofficial moniker for our home state of Connecticut, to reflect this coffee's reliability and approachability for all coffee drinkers.
We are currently tasting notes of caramel, fig, and roasted nuts in Steady Habits.
Our flagship espresso blend is built to please the taste preference of all old school and new school espresso drinkers. This blend pairs wonderfully with milk and creates a beautiful crema, which is ideal for latte art, but it's also made to be absolutely delicious no matter which way you brew it!
We are currently tasting dark maple, brown butter, and blackberry in 5th State.
Our signature dark roast always consists of a blend of both washed and natural process coffees. Using a natural process coffee adds a rich sweetness and complexity to this coffee that is not lost even when roasting for longer to achieve the dark profile.
We are currently tasting notes of dark chocolate, crème brûlée, and warm spices in Big Red Truck.
We're so pleased to release our 2023 Holiday Blend coffee, a medium roast blend of coffees from Colombia, Mexico, and Ethiopia that will make you feel like you're savoring an exquisite hot chocolate on the coziest winter day. Stock up on bulk 2 lb or 5 lb bags to last you through all your holiday festivities, and send 12 oz bags to all of your loved ones for a gorgeous gift that we're sure will be much-appreciated.
We are tasting cinnamon and hot chocolate with a velvety texture in this year's holiday blend.
Go to top